Download Minecraft 1.13.0.5 for Android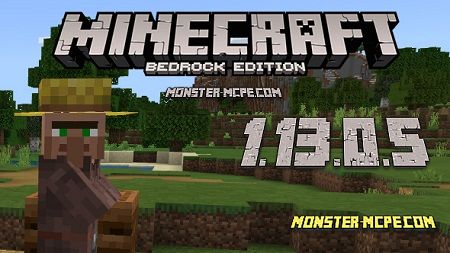 As before, the developers of the beloved MCBE game improve and work on the game, taking into account all the wishes and comments of the players, which ultimately makes the game more comfortable for the game and serviceable. Despite the large list of fixes in previous versions that were immediately fixed by the developers, players also notice more and more bugs. That is why a new version of the game was released -
Minecraft Pocket Edition 1.13.0.5
with new fixes.
But before exploring the full list of fixes, let's also remind you of the main rules for using the new beta version of the game as before.
In order not to lose your progress in this version, do not forget to make a backup, since in earlier versions it will not be available.
Also, pay attention to the fact that playing in
Minecraft Pocket Edition
1.13.0.5 you will not be able to play with players who play the full version of the game or in Realms, since they are not available for players in this beta version.
Now let's move on to the most important.
Minecraft 1.13.0.5 fixes
Add-ons and fixes:
— Fixed opportunity to add fixed entity-component;
— Proper rendering of the armor of your character in Marketplace;
— Modified size of the area of highlight in the menu Create World;
— Correct display of the right hand in VR mode, as well as the animation of the hand in the first-person mode;
Fixes of crashes
In this version, there were a little number of crashes which was fixed, which in turn had a good effect on the gameplay.
— Fixed the most unpleasant error due to which the game stopped loading on Android devices;
— Interaction of the player with other creatures;
— Error after the player sleeps in bed;
— Application of resource pack to Realms;
— Removed annoying "not responding" message.
Fixes for mobs and gameplay
— Improved recipe book for creating weapons and other tools;
— From now on, mobs will drop their equipment after death as well as loot;
— Crashing blocks when boarding a boat and with weapons such as a crossbow;
— The Gateway portal will no longer be generated on the End (on the obsidian platform);
— After the arrows are fired at the ground, they will no longer fly back;
— Players will no longer be able to influence on lit objects TNT;
— Fixed float texture;
— Fixed a bug with the left-wing of the elytra.
Dear players, above we showed you all the corrections in the version of Minecraft Pocket Edition 1.13.0.5, we also want to remind you that you can find a lot of interesting things on our site, maps, mods, textures and much more.
Download Minecraft 1.13.0.5 for Android