Minecraft PE 1.19.10.23 for Android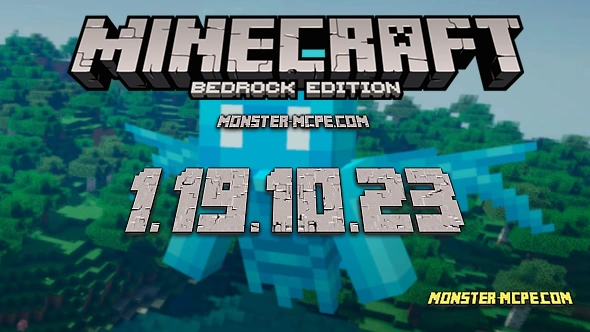 The developers have released a test version of
Minecraft 1.19.10.23 for Android
. The update added a command to search for biomes and structures, made 7 changes and fixed 14 bugs.
New command
Added the /locate command to search for biomes and structures. How to use:
To search for biomes, type "
/locate biom
biomname" into chat
To search for structures enter into the chat room "
/locate structure
structurename".
After entering the command you will get the coordinates of the place you want
Version Match
Made 5 changes for Bedrock match with Java. Important:
Wound animations of the Warden became the same
Mangrove swamps are generated denser
The health of Cod, Needlefish, Salmon, and Tropical Fish has been reduced to 3 units
Shulker only applies "Levitation" effect to first level
If you eat Pufferfish, it gets "Poisoning II" effect
Changes
Added 2 changes
The Darkness effect works on the Nether world and the End
Bell reacts to any projectiles in
Minecraft
Fixed 14 bugs
Item in Allay's hands glows in the dark
Fixed Mangrove Sprouts particles at the moment of destruction
Mangrove sprouts planted at a random distance from the center
Iron Grate and Glass Plate connect to Mangrove Roots
The effect of Lava or Mellow Snow does not disappear from the screen when you get the Darkness Effect
Sculk Shrieker reacts to the player on top of the mobs
Sound of a projectile hitting an Amethyst block triggers correctly
Boats are placed correctly on the water
Flasks are used in the water
Blocks of Grass in the Swamps can be replaced with blocks of Mud
Tame mobs do not disappear when entering the Nether Portal
Game does not crash when selecting a Starter Coin Set
Trader's Llama once again stand up for him
On flat worlds, areas below zero are not deleted when loading
Technical Changes
Added 8 technical changes for addon development and testing.
Minecraft PE 1.19.10.23 for Android