Download Minecraft PE 1.2.13 full apk free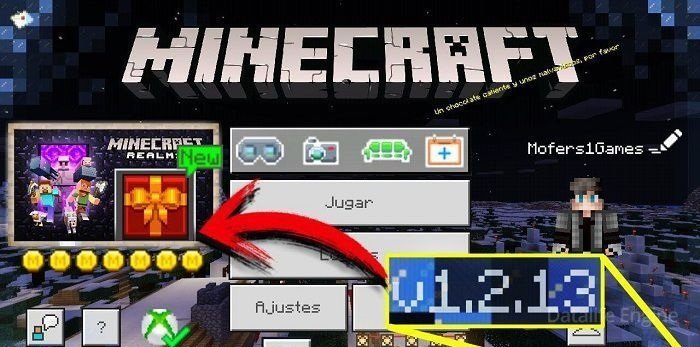 Hello friends!
Minecraft PE 1.2.13 for Android
, Windows 10 and Xbox One finally came out! The long-awaited release has many features and functions. The whole point of the update is the innovations from Aquatic Update, now you do not need to install the beta version, because everything works when you enable one option. In the game settings you can activate the Experimental gameplay and new features will appear!
What's new in Minecraft 1.2.13 Full for Android?
Ability to create backups in Realms, they are downloaded and used to restore the previously created world
There are functions the game settings with which you can change the functionality of the buttons of the controller X / Y, A / B
Menu screens change each other smoothly, this function is turned on and off again in the settings
Actions and windows now respond to a button click, which improves the interactive GUI components
Palletization of chunks! In Minecraft PE 1.2.13 Full, the multiplicity of different block-elements practically tends to infinity
If you fall on a haystack, the damage will be reduced
Additional (purchased) skin sets are situated top of the list if you are using skin menu
In Realms you can clear the list of players using the Participants window
Updated Minecraft store, in this version it is possible to search content
What has appeared in MCPE 1.2.13:
New types of mobs - drowned people
New items, among them a trident with four kinds of enchantments
New wood in the form of hewn logs
Animation effects while swimming under water, when the player uses fast movement ( water sprint)
Prismarine plates and steps, a brick of prismarine, dark prismarine
Updates for addons in Minecraft PE 1.2.13:
The headpiece is added to the armor model
Boats can now contain several seats for landing
The name "llama_spit.json" is changed in the file "llamaspit.json"
Horses and lamas now do not have the "slot.armor.chest" property
If the creature has not received damage from the specified object, the behavior.hurt_by_target event does not work
Correct operation of "minecraft: breathable" parameters
You can always see the names of living beings, if they are defined by a set of data
Fixed bugs in Minecraft PE 1.2.13 Full:

In total, developers coped with 229 errors, and it is worth highlighting the most significant:
The order of drawing chunks begins with those that are located around the game character
Buttons made of stone can be broken with a pick faster
When the bow is recharged, it cannot be used for attack
Lamas can be united in a caravan and follow the leader, when earlier these mobs ran around their leader
Ability to copy and paste text content
Mobs do not get stuck in a closed door
Download Minecraft PE 1.2.13 Full for Android for free by following the link below - in a single click! Have a good game!


Download Minecraft PE 1.2.13 full apk free