Minecraft PE 1.17.11 for Android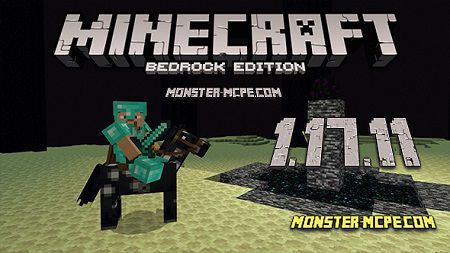 Unexpectedly for everyone, the developers of the Mojang studio have released a new release of the
Minecraft PE 1.17.11.01
update and, as always, for all users of Android devices and Android operating systems. The
new update
is quite small but has very significant fixes that relate to the gameplay of the Minecraft world.
In the new update, the developers have fixed six new bugs, one of which, for example, is that now players will not die when teleporting from the End dimension. Let's take a closer look at all the fixes in the new update below.
Features of the update for Minecraft PE 1.17.11.01
As mentioned earlier, this is a small update that has a small number of fixes, namely six. Below you can see a list of the new fixes:
1. Now players will no longer die when teleporting to Overworld from the End dimension at certain heights;
2. Fixed stuck on the respawn screen when dying at the End on certain seeds;
3. Fixed a bug for Xbox when pausing and resuming the game a second time;
4. Horses do not become invisible after the player gets off them;
5. Command / msg works again on servers in survival mode without cheats;
6. Fixed a bug with updating servers.
Minecraft PE 1.17.11 for Android