Minecraft PE 1.17.10.20 for Android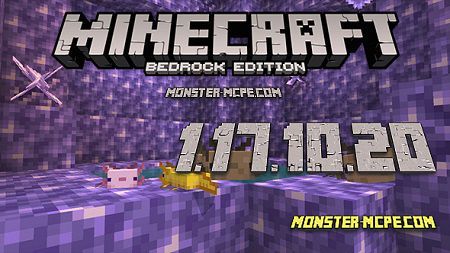 We know you've been waiting for this, namely Thursday! Why? After all, today is the day of the release of a new update from the developers of the Mojang studio. Just a few hours ago, Mojang released a new
Minecraft PE update 1.17.10.20
for all Android users and Android operating systems. In general, this is not a big update since in the
new version
of Mojang they added the Equip button in the Character Editor and made 42 new changes. Let's take a look at all the features of the new update below.
Features of the test update for Minecraft PE 1.17.10.20
As mentioned earlier, the main feature of the Minecraft Pocket Edition update 1.17.10.20 is the new Put on the button and more than 40 new changes that relate to the game and technical aspects of the game.
The first thing worth paying attention to is the changes that relate to the gameplay. In total, there were 29 new changes that Mojang added in the upcoming
Caves & Cliffs update
.
Below you can see a list of the most significant changes:
1. As mentioned earlier, the main feature is the new Wear button which has been added to the Character Editor;
2. Now such a natural phenomenon as a thunderstorm will appear as often as in the PC version of the Minecraft Java game;
3. Now axolotls no longer move their tail when pretending to be dead;
4. Now when feeding axolotls using a bucket with tropical fish, the bucket will return not empty, but with water;
5. Now creatures such as the Drowned will attack the Axolotl;
6. Normal and Ancient Guardians will now attack Axolotl;
7. Now players can use bone meal on Azalea if it is on clay;
8. Now the copper ore in the creative inventory is no longer in a group with other Nether ores;
9. The location of such a block as Deepslate in the creative inventory has been changed;
10. Now a decorative block like Hanging Roots will be destroyed by water;
11. Lightning rod will no longer destroy blocks that fall on it;
12. The work of the / title clear command has been fixed;
13. The color and duration of the fireworks flight has been changed;
14. A decorative block like Small Dripleaf can only be obtained using a tool like Shears;
15. Now the Skeleton that will be in the Powder Snow turns into a Stray not in 45 seconds, but in 20;
16. Now burning mobs will no longer be able to melt Powder Snow if the special act of griefing is turned off in the game settings.
And the last one is the Technical changes that were made to the game with the new updates for Minecraft PE 1.17.10.20.
In total, 13 new changes were made that relate to the technical aspect of the games. Please note that these changes are more related to add-on developers. You can see more details about these changes on the official source.
Minecraft PE 1.17.10.20 for Android