Minecraft PE 1.16.220.51 for Android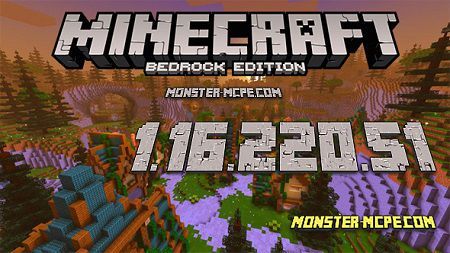 A couple of days ago, we presented the release of the full version of the update with a lot of different fixes and changes, as the Mojang developers again presented a new
test update
for
Minecraft PE 1.16.220.51
. This new update is already available to every user of Android operating systems. In the new test update, Minecraft 1.16.220.51 Mojang fixed 7 new bugs and made 9 new technical changes.
Let's take a closer look at all the features of the new test update below.
The first thing we will draw your attention to is bug fixes. As mentioned earlier, in general, Mojang has fixed seven new bugs. Below you can see a whole list of all the fixes:
1. The sound settings for the powder snow block have been fixed;
2. The effect of extinguishing fire from a block of powder snow has been fixed;
3. The Powder Snow Block has been removed from the Creative Inventory;
4. Fixed the position of the Trident in the hands of such a hostile mob as Drowned;
5. Activated the Find Friends button on Xbox;
6. Fixed an issue related to Vsync that caused keyboard and mouse lag on Windows 10;
7. Fixed screen reader.
And the last is a technical change in Minecraft PE 1.16.220.51.
In total, the developers of studio Mojang made nine technical changes, some of which you can see in the list below:
1. All Actors links have been renamed Entity;
2. BlockPos has been renamed to BlockLocation;
3. Made several changes to the GameTest;
4. And 5 more changes related to the development of add-ons.
Minecraft PE 1.16.220.51 for Android