Minecraft PE 1.16.201.01 for Android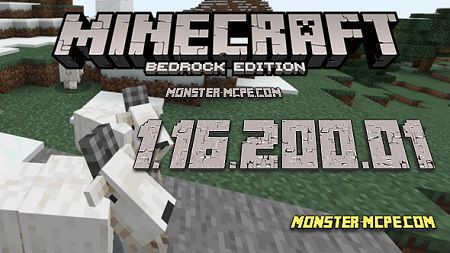 And here is the new release of the new update! We present to your attention the
new release
of
Minecraft PE 1.16.201.01 for Android
devices. The new update has fixed five different bugs and improved stability. Some game aspects have also been improved. You will learn more about the features of the new update below.
What's new in MCPE 1.16.201.01?
In Minecraft PE 1.16.201.01, players can discover several interesting innovations in the world of Minecraft. All of them are mainly related to the Mountain Update. Why? Because this is one of the few locations that has not been updated for a long time.
The main mountain update mob is the Mountain Goat.
This is a rather interesting mob in Minecraft PE 1.16.201.01, which can only be found in mountainous areas. The mountain goat can jump high, which allows it to climb to almost any height. At the same time, he does not like strangers, so he can butt both any other mob and the player.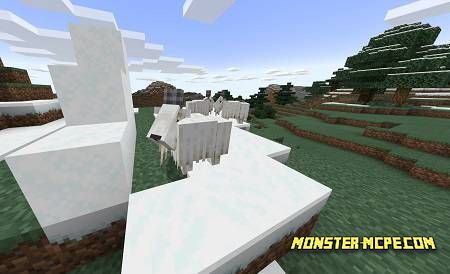 This mob has only ten hit points, which is five hearts. Despite being aggressive, players can breed a mountain goat. For this, you need to use wheat. The player has the ability to tie a mountain goat with a leash.
New interesting item Goat Horn.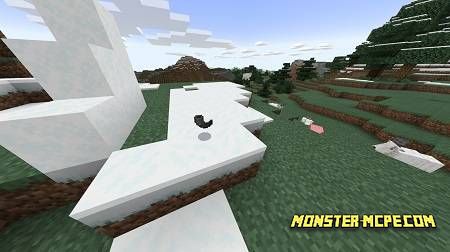 With the advent of a new mob in Minecraft 1.16.201.01, you can get a new item called a goat's horn. It drops from a mountain goat if it crashes into a block (wall, rock, or tree).
Please note that this is the only item that drops from this mob. The goat's horn does not have much functionality, but it can only be used to make a sound that is similar to the sound of a pillager attacking a village.
Powder snow
Starting with Minecraft PE 1.16.201.01, the player should be careful in the snow biomes. After all, here you can at any time step on a new type of snow block, namely powder snow. The main feature of this block is that the player can fall through this block. The texture of powder snow is practically the same as the texture of a simple snow block. We also note that when falling into powder snow, the player's speed of movement slows down significantly, and the height of his jump is significantly reduced. The view around the place where you fell through the snow is limited by the snow fog, which starts to render after the fall.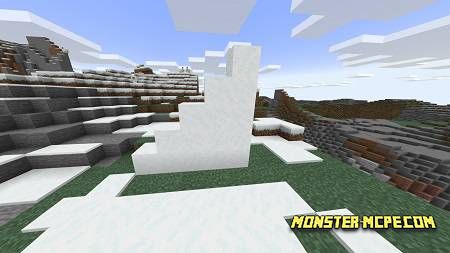 Bagofixes:
In general, only five bugs were found and fixed in the new update.
1. Now Minecraft works correctly again when connected on all Windows 10 devices;
2. The bug due to which the double chests disappeared was fixed;
3. Shulker's box does not lose its contents after using the cauldron;
4. Menu buttons are visible again on computers with older AMD versions;
5. Crashes when creating a world on Android have been fixed.
Attention:
Players who use Windows 10 to play are recommended to update their drivers!
Minecraft PE 1.16.201.01 for Android