Minecraft PE 1.16.200.51 BETA for Android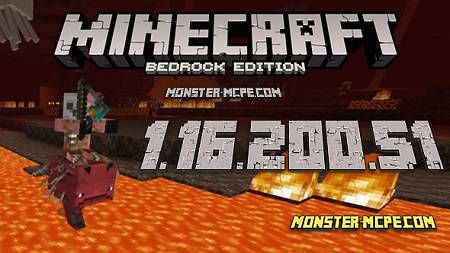 Last night on October 22nd, Mojang released a new
beta update
for Minecraft Bedrock 1.16.200.51. New update with new changes and fixes. Please note that before using the new update, do not forget to back up the worlds. Let's now consider the new beta version of Minecraft PE 1.16.200.51.
What's new in Minecraft Pocket Edition 1.16.200.51?
For a long time, Nether's world remained practically unchanged. Only occasionally did minor innovations appear. But the Nether world renewal changed everything. From now on in
Minecraft PE 1.16.200.51
you can visit unique locations and find new blocks.
Mobs
Of the new inhabitants, such new mobs as Piglin and Hoglin can be noted. These creatures can attack you on the first successful occasion, but at the same time, they can fight between each other.
Hoglins are very fond of crimson fungus. With it, you can breed these creatures. But it's worth considering that this new mob is afraid of corrupt mushrooms. This means that it is enough to have this type of mushroom in stock and put on gold armor to feel protected in the crimson forest.
Piglins just love gold, so they will not touch the player if he is wearing gold armor. Plus, they don't mind trading their items for gold.
Piglins can drop a wide variety of drops: from obsidian to various potions. If you open a chest near the piglin or start digging for gold, they will immediately start attacking.
Of the weapons, these mobs have crossbows, as well as swords. So be careful with them!
In the new update, the developers of the studio Mojang decided to change and thereby improve the death messages. How exactly, you can see below.
Changed death messages
From now on, death reports have become more interesting and creative. In total, five death reports were changed:
1. From using the Trident: Was impaled to death;
2. From the spitting of the Lama: spit by the Lama;
3. From the Skeleton: shot by the Skeleton (instead of: Shot with an arrow);
4. From Fire of Ghast or Blaze: Burned by Blaze / Ghast;
5. From Shulker: Sniped by Shulker.
Fixed bugs and crashes:
In addition to the updated death messages, ten bugs were also fixed:
Fixed three bugs in the screen reader;

Fixed text contrast bugs;

Increased the spawn radius of mobs during the raid;

Again you can craft brick blocks of the Nether world;

Fixed the required number of bricks in the Nether world;

Fixed NBT component lock_in_inventory. Armor with this component cannot be worn.
Minecraft PE 1.16.200.51 BETA for Android