Minecraft PE 1.16.100.56 for Android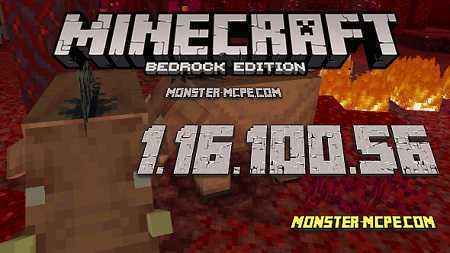 Today, the developers of the Mojang studio presented to the Minecraft Community a new
test version
of
Minecraft PE 1.16.100.56
for Android. New bug fixes, fixes, and changes in the Nether world. Also in the new update, the developers have fixed bugs that affected the performance of the game. Let's take a closer look below what has been changed in the new Minecraft PE 1.16.100.56 update.
What's new in Minecraft PE 1.16.100.56?
The most important feature of the Nether update is the different biomes and the overall size of this dimension. Those players who play Minecraft have noticed for a long time how much Nether's world has changed. Even in early versions of Minecraft, the Nether dimension was empty and did not have interesting content, but now this place is filled with a huge amount of interesting and unique content, new functionality, new mobs, structures, and much more. Now it is a completely different world with different biomes, each of which has a unique environment, as well as the inhabitants, each of which also has a unique behavior.
For example, such a hostile mob as Brutal Piglin which has different behavior compared to the Simple Piglin. Brutal Piglin will attack regardless of the circumstances in the game, while Simple Piglin can interact with the player in the presence of a gold bar. It would be very difficult to survive in the Nether world if this type of Piglins spawned everywhere, fortunately, you can only meet them near Bastion Remnant. Therefore, if you want difficulties and more interesting challenges, then you need to go to visit this place.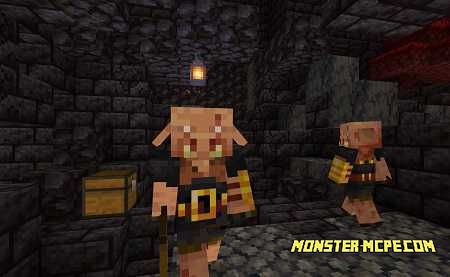 As for biomes, in the new Minecraft PE 1.16.100.56 update, players can explore new amazing places with previously unseen forests with lush and huge crowns and foliage. For example, Warped Forest will feature a large number of creatures such as Enderman, as well as a mysterious bluish mist. From now on, no one lives here. Also here you can see a large number of unique and beautiful structures and blocks.
Another equally interesting biome is called the Crimson Forest. Unlike the previous biome, this biome has a huge number of inhabitants. There are many unique trees and fungi growing here, and such hostile creatures as Piglins and Hoglins walk between them. Moreover, Piglins can even trade with players.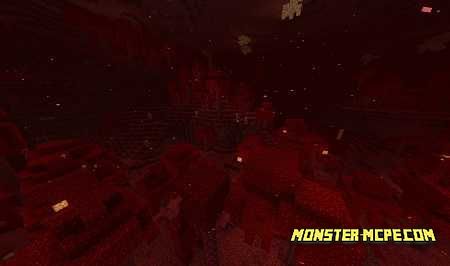 And the last interesting biome worth paying your attention to is Soul Sand Valley. This is a creepy place where you face a lot of skeletons, blue fire, and creatures called Ghast.
We draw your attention to the fact that such an environment awaits you in such a biome as Basalt Deltas.
Bug fixes
As mentioned earlier, this update also brings us new fixes. Below you will see the most significant ones in the test version of MCPE 1.16.100.56:
1. Fixed the calculation of the number of player awards.
2. Fixed the /clear command.
3. Fixed crashes during the game.
4. Objectives and achievement awards have been updated.
5. Added attenuation for the horn sound.
6. Fixed text-to-speech reproduction.
7. Fixed sounds when placing items in frames.
Minecraft PE 1.16.100.56 for Android