Cuter Vanilla Llamas Texture Pack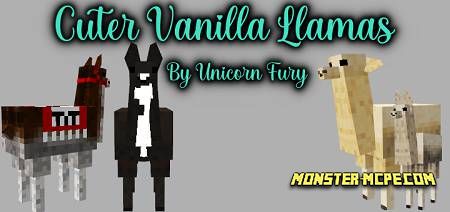 Would you like to change the boring and no longer interesting texture of llamas in the Minecraft world? If so, and you really would like to change the texture and model of this animal, then the new
resource pack
is exactly what you need. This resource pack changes the model of llamas in the Minecraft world, and also adds special textures for these animals. Please note that the new llama model will functionally have the same behavior as before.
Players can still tame this animal, as well as a leash, hunt for it, or simply breed it.
Attention: Please note that this resource pack does not in any way affect achievements in the Xbox, in other words, this resource pack does not disable achievements since there is no required behavior. Let's take a closer look at what will change.
What will change?
1. The face of animals has been changed, now it looks more realistic, and the model of the llama itself has been improved. In the old llama model, if you noticed, the position of the face was located and displaced on the neck;
2. The lamas now have more realistic beautiful ears;
3. Four types of new wool color for llamas;
4. Special new carpets for lamas;
5. Added a new feature in the animation of the animal, namely, when someone hits the llama, this animal bends its ears back and prepares to spit at its offender. For those who have not heard of such a feature before, this behavior is exactly the same as in real life;
6. Added tail;
7. Baby llamas have a more realistic small and thin model.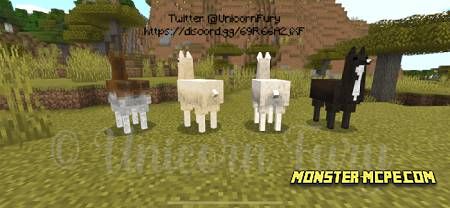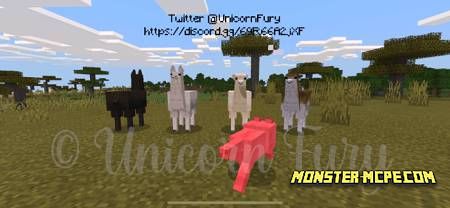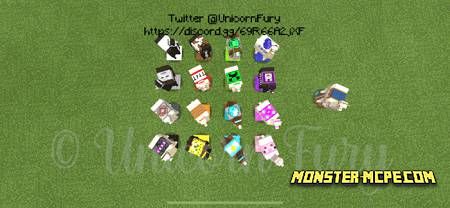 Cuter Vanilla Llamas Texture Pack