Smooth Wood RSPC Texture Pack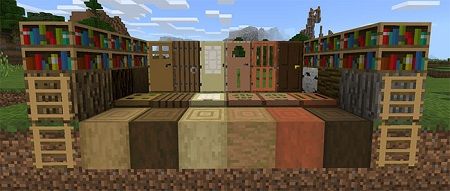 Smooth Wood RSPC
is a graphic add-on that has a greater impact on the appearance of wood in the world of Minecraft Portable.
The tree textures with this pack will look cleaner and simpler, they will get smoother outlines.
However, the
textures
also affects some other elements of the MCPE game world, which will now look more beautiful and realistic.
It's about the annoying features of standard textures and details that can annoy players.
Many players often think about how to simplify the graphics in the game and leave the classic style of Minecraft PE. If you belong to this number of players, then this resource pack is a great option for you!
Smooth Wood RSPC Texture Pack