Deluxe Water Pack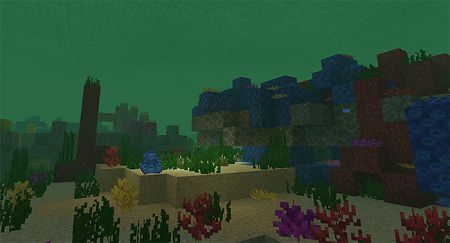 Deluxe Water Pack
is an interesting addition to the cubic universe of Minecraft Pocket Edition. As it is clear by name, the main changes in graphics are related to water bodies. Just note that every biome in the game world will look absolutely new! The color scheme of the biome will acquire new colors and shades, thus there will be a significant difference between biomes.
The idea of creating textures arose after the release of
Minecraft PE 1.4
. The creator took advantage of the mechanism of the new version to change the color of the water, and all this does not affect the new textures of reservoirs.
In general, here you have the opportunity to improve the graphics, but you can use only one texture with this package.
Main changes:
Light colors in glaciers

Green forests

Light shades on the plains

Golden color on the fields with sunflowers

Warm oceans are lighter, and the cold are darker

Purple hue on the hills, red color in near biomes

Beige water in the desert

Orange water in mesa biome

Important: these textures should be included in the priority and found at the top of the list, so that changes with water work.