Triple Village Fused to Mesa Mineshaft Seed: 1526565007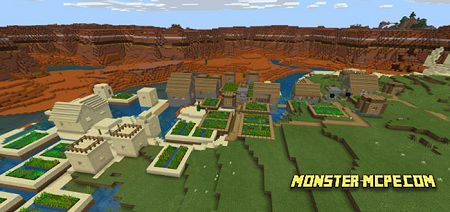 First place where you will be located is biome of "Mesa" and forest with flowers (sunflowers). Turn back and go through the place you was spawned, there, you may find biome of "Mesa bryce".
In order to find "
Triple-village
" follow the side of biome of "Mesa", moving on the border at right side. Exist three types of villages, such as — desert, zombie plain and plain village. In order to find "mineshaft" just follow the edge of zombie village.
Seed ID: 1526565007
Triple Village Fused to Mesa Mineshaft Seed: 1526565007