Nightmare Mode Add-on 1.14+
A new addon that adds a new mod to the game, but this is not just a mod, but an addition that will make the game scarier. This
addon
is called
Nightmare Mode
, something like that you could already meet in the PC version of the game Minecraft. This is a very cool addon for players who love horror games. Using the new addon, the game will become more exciting and scary thanks to the new sound effects.
Features of Nightmare Mode
After you die you will not have the opportunity to spawn again. In the game, you will notice that there is no respawn button. If the player tries to re-enter the world or reconnects, he will still be killed. For better survival, all additional player mods will be unavailable. The difficulty of the game will be set to Hard.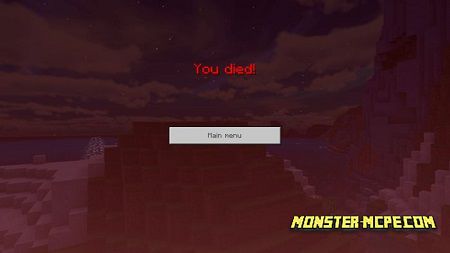 Creatures
In the game, you will often meet creatures such as Skeletons and Zombies. Only Zombies will move in groups of 4 or 6. We also draw your attention to the fact that during the day these creatures will not burn from sunlight.
You will notice that all the music that was previously in the game has been replaced with new sound effects. The textures of the Heads-Up Display have been changed. The health bar is set in hardcore mode. Bars such as health, hunger, and armor will no longer appear empty. For comfort, the cursor has been removed from the game. Changed the texture of half-hunger.
It is very important to know that this addon supports multi-player game mode, which means that you can play not only alone. After death, you can watch your friends.
What if in the chat you will receive a large number of SPAM messages?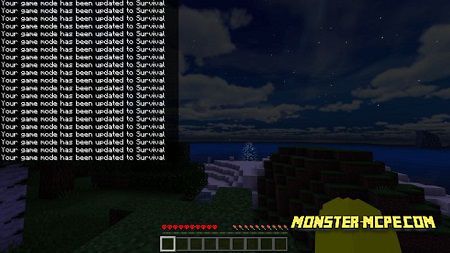 1. To do this, simply activate the cheats. Click Settings, then select Game and click Activate Cheat;
2. If you are not an administrator of the world or server, ask the administrator to follow the steps in paragraph 1;
3. If this did not help, and this is possible, enter the following: /gamerule, and then the command: sendcommandfeedback false, this action should definitely disable spam in messages.
If a player deactivates a pack in his world, he will no longer be dead.
After reactivation will be dead again.
How does it work?
In order for the new addon to work properly, you should do:
1. Import the downloaded pack;
2. During the creation of the world, apply the pack by opening the Behavior Pack tab. After that, the pack with the new addition will be automatically applied;
3. If you are trying to apply this pack in the old version, you should open the World settings and then apply the pack. Note: We recommend that you make a backup of your world in advance.
Achievements will be disabled.
DO NOT FORGET to activate cheats after applying a new pack.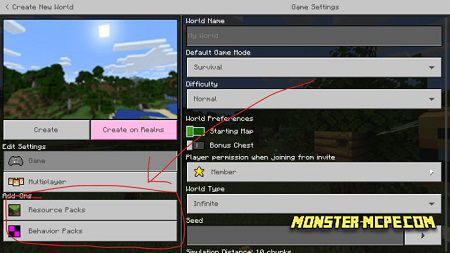 Nightmare Mode Add-on 1.14+