WorldEdit Add-on (1.8+ Only)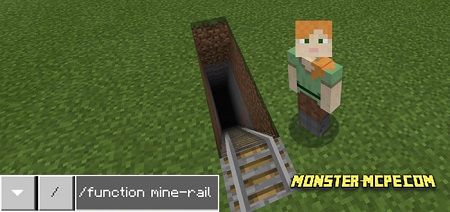 This
addon
is similar to mod
WorldEdit
Java edition, but this one was created for BE version of Minecraft, that is why it is pretty limited! Here you have eleven different commands, which make your building process much easy. Some commands can help you to create mineshafts or contrariwise, in order fill some areas with water.
In the list below you can see all available commands:
1. /function fence-10 — surrounding you with ten blocks, in the area where you are located.
2. /function fence-20 — the same command but here you will get twenty blocks.
3. /function subway-n (s;e;w, at will (south, east, west))- creating the subway in a north way, which is consisted of one hundred blocks, three in tall and in wide. The rails are working with help of RedStone. Also, there is a special object which is preventing the spawning of mobs. In order to create the subway in the direction you want, just choose, it can be south, east, west or north, which is -n; -s, -e and -w.
4. /function mine — creating the way down to the mineshatfs, with deep of sixty-nine blocks in the location where you are. On one of the sides, there are torches, which is preventing the spawning of mobs.
5. /function mine-rail — creating the railway, which is going down on sixty-nine blocks.
6. /function level-100 — corrects uneven terrain on one hundred blocks under your legs in all directions.
7. /function clear-100 — clearing the blocks in the place where you stand on one hundred blocks and on all the ways for fifty blocks.
WorldEdit Add-on (1.8+ Only)