WorldEdit: BE Add-on 1.19/1.18+
The good old program
WorldEdit: BE
for the pocket version of Minecraft. The
mod
is always very popular among players, because it is very useful. This is the next version of the program, which will allow you to easily manage the landscape and other elements in the game. You will be able to apply various commands to quickly change the block universe.
How does it work?
How does it work?
First, you have to make yourself a builder in order to apply commands. To do this, you write the command
/tag @s add worldedit
. After that, you need to take a wooden axe to control the functions. To give control to other users, you need to replace the @s part of the command with the player's nickname: for example,
/tag "Steve Wanderer" add worldedit
. Don't forget the quotation marks.
The
;navwand
command gives you a magic wand that allows you to move wherever the scope is pointed.
Areas are highlighted with a wooden axe, but if there are no blocks at the desired points, you can use the
;pos1
and
;pos2
commands.
Prescribing commands is not a very convenient activity in smartphones, so the author added items for some commands. To get them, you need to write the command
;kit
.
Functions
With the axe you can select areas of the world
It is possible to cut, copy and paste areas
Filling an area with blocks
Navigation stick available
Can undo or redo actions
You can perform actions with commands or with buttons. Commands give you more options.
To write commands instead of the usual symbol / you must use ;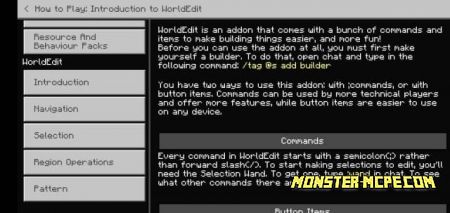 Changes in the new version
Compatible with 1.19.80
Added Command Tool
Added new commands
Fixed bugs
WorldEdit: BE Add-on 1.19/1.18+