WorldEdit: BE Add-on 1.17+
The good old program
WorldEdit: BE
for the pocket version of Minecraft. The
mod
is always very popular among players, because it is very useful. This is the next version of the program, which will allow you to easily manage the landscape and other elements in the game. You will be able to apply various commands to quickly change the block universe.
How does it work?
First you have to make yourself a builder to apply commands. To do this, write the command
/tag @s add builder
. After that, you need to pick up a wooden axe to control the functions.
Functions
With the axe you can select areas of the world
It is possible to cut, copy and paste areas
Filling an area with blocks
Navigation stick available
Can undo or redo actions
You can perform actions with commands or with buttons. Commands give you more options.
To write commands instead of the usual symbol / you must use ;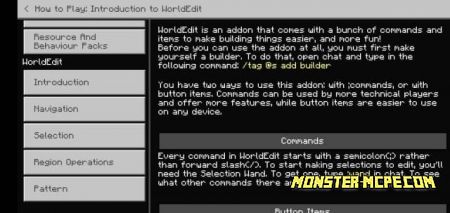 WorldEdit: BE Add-on 1.17+