Vein Miner Mod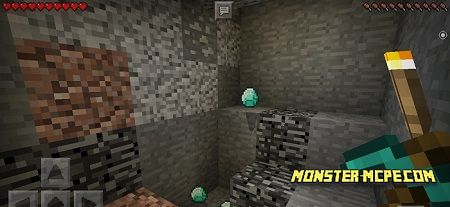 Very useful
mod
, which gives opportunity for each player who like to spend all his time in mines, to get ores, in better and in faster way, it means that all you need is just to break only 1 block and get all the ore vein, this mod is called Vein Miner! It is truly increased the speed of mining and getting useful ores.
From now, player can easily mine different types of ores, such as coal, mining of this type of ore will be with pretty big speed and more productive. For some players, this process will become the favorite!
How it works?
Before installing, we recommend you to see screenshots below, in order to see how Vein Miner Mod is look like in general. Truly said, this mod was created at first for PC, but later developer decided to move it for MCPE, with saved functions.
How to turn-off the mod?
In order to make the breaking of ores the same as it was before you start to use this mod, just press to sneak. There is another plus of Vein Miner mod, is that it works with others IC mods, which is consists of new ores or tools.