Food's Plus Add-on 1.18+/1.17+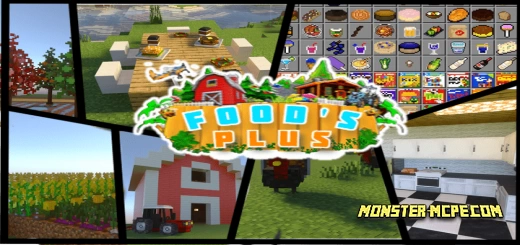 The lack of food in MCPE is getting weaker with each update. Players have already learned how to build farms and actively grow mobs or plants. Anyway,
the Food's Plus
mod
will help you survive. The more food in the game - the easier the survival becomes. The build includes more than 100 types of food. It has everything from baked goods to full meals. Most of them are available in survival mode.
Update
The addon is best suited for
role-playing games
.
The player will be able to craft fruits and vegetables, but some things are only available through creative mode.
Types of food
Baked Goods
Sweets
Breakfast
American Food
Drinks
Asian foods
More
Changes in the new version
Fixed the spawning of mobs
Added food crates
Changed seedlings and crops
Changed seeds
Added fruit trees
Lots of other changes
Food's Plus Add-on 1.18+/1.17+