Pro Starter Pack Addon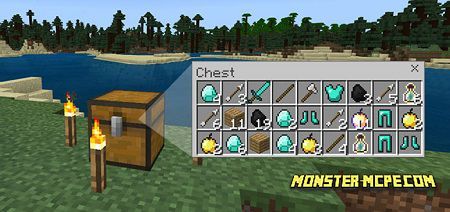 New
addon
which helps you to get better chests with advanced things inside, it is called as
Pro Starter Pack
. This bonus-chest will be very useful in survival mode, especially for those who just start to explore Minecraft world or just want to get better items. Note, that all the items will be spawned there in random way, it means that you will see different things.
How it works?
In order to activate this addon, enable it in your settings. Bonus chest will generate near spawn place.
Each player will get some basic things, such as bone, coal, torch and oak log.
And here is some new bonus things:
Exploration Map

Regeneration Potion

Bed

Gold Ingot

Ender pearl

Totem

Axe of iron

Axe of diamond

Bucket

Saddle

Diamond Sword

Trident

And many others.