Multiplayer Tanks Addon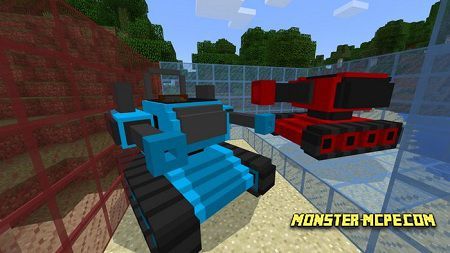 Perfect battle
mod
for players who like something similar to game
Tanks
. Here you will be able to get one of two available tanks for battle. Each of them, has its own characteristic. This mod is good for multyplayer games. Organize big tank fights with your friends. Recommended to use pretty big map with a lot of places to hide. When you will sit in tank, it will look like you are not inside of tank, but on top of it. Also, jumps are available for player while it will be in tank, it can help to overcome difficult landscape.
General facibilities:
In order to drive it, long click on Tank and choose Ride or Drive.
Types of tanks:
Red - has powerful projectile; the shell - lower attack speed and has higher damage;

Blue - faster than red, but with not so powerful projectiles; the shell - fast attack speed and lower damage.