Tanks Mod for Minecraft PE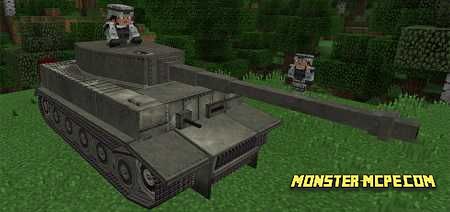 Do you like tanks? If so then the new
addon
is exactly what you need. The new addon adds powerful and destructive war killing machines to your Minecraft world. Everything that came before that, namely Creepers, dynamite, and other explosive things, are now not so scary since
Tanks
are more dangerous and not so can sometimes be dangerous for the player who uses them.
The tanks are so powerful that just one shot can kill any living creature standing in your way, the same goes for walls and structures.
Players can use their personal tank for battles or for some other role-playing games.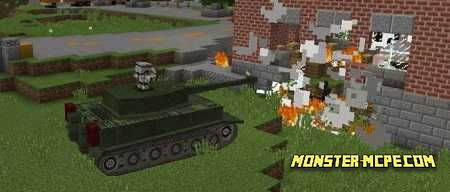 In addition to tanks, your graphical interface will also change in the game. The environment will change depending on where you are. This will be visible when you are sitting inside the tank.
Also, six new items will be added to the Minecraft world.
In order for the player to start using the Tank, you need to use a special key that is needed so that the player can start the engine of the tank. But before you start fighting on your tank, you first need to assemble it from different parts. To do this, you need to work a little, namely, craft the body of a mechanical Tank, the tracks that they use to move and of course the tower for good visibility and defeat your enemies.
The player needs to combine all these parts of the tank, which will give the player a durable and powerful tank!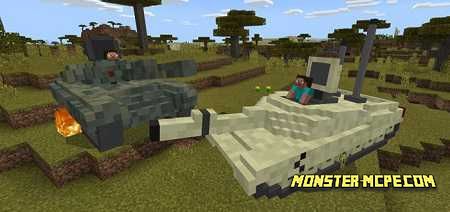 Yes, there is an easier way to get a tank, namely using the Creative inventory, but still, for a better experience, it's better to try it yourself.
You will need fuel to move the tank. Players will also need ammunition to fight.
For crafting, players need to have some materials, namely iron ingots and of course green dye. Try to collect as many of these materials as possible, as these are the main crafting materials.
We note that the speed of movement of the tank on the ground is the same as that of the Horses.
Each tank can store some items of the player, for this, free slots have been added.
Tanks Mod for Minecraft PE
Battle Tanks Addon



War Tank Addon