Zombie Apocalypse Addon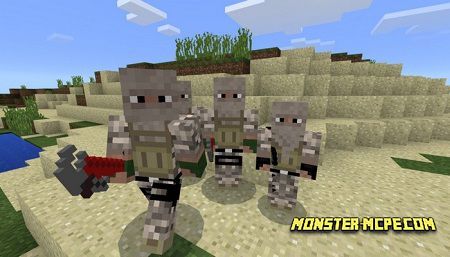 Map for those who likes games in survival type, especially for those who likes to fight with zombie.
Zombie Apocalypse mod
changing power of zombie and make it stronger and the most dangerous enemy. Developer also do not forgot about player, here, you can get a new type of weapon and some special explosive things. You can play here with your friends, exploring this new world and fighting with new most dangerous mobs. All these can give you great experience for fighting with zombie in the future.
New facilities:
Infected zombie — can moving fast, resistant to day light

Survivor — if they were bitten, they will turn in zombie

Bandit — has rifle and weapon as sword, hostile, will attack you in order to kill or robbing

Throwing of knifes — can knock back you and hit a small damage

Grenades — can explode, throwable

Pistol of Makarov — has some small delay in shots and hit a pretty big damage

AK 47 — automated gun with big damage

M4 A1 — in order to shoot with this weapon you should have arrows, single shots and precise

Types of armors: camouflage (color: green), of leather, of plastic

In order to tame dog use dog food

For surviving recommended eating some canned

Survivor — villager