Girlfriends Addon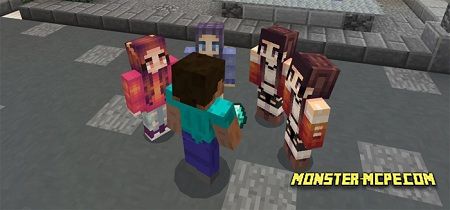 This
mod
gives opportunity forget about lonely. Here all the living villagers become a woman. If player have a diamond, he can get married with one of that women. Your "wife" will follow everywhere automatically and bear some items.
How to find your girlfriend:
They all are located in village (it is because all of them replaces all villagers). When player will find a girlfriend he like, just give her a ring with diamond (diamond is usual diamond). When she will agree, you will see hearts on the screen.
For such devices:
Windows 10: hold your diamond and after that right click on some villager.

Android and ios: long press on villager (hold at the same time diamond and click on "tame").
Your wife will never die, since she become married, she gets unlimited health, also, she will always follow you.
You can ask yourself — "but what should I do if she become boring me and I want divorce ?", in this case all you need is just to give her emerald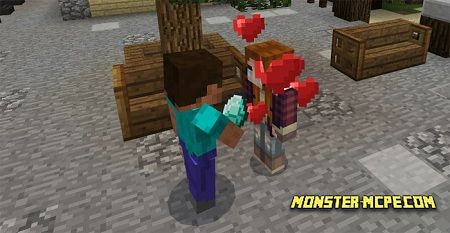 (it is similar to sign divorce), after that your relationships will stop.
In case if you want her to stop and not following, just ask her.
Windows 10: just sneak and right click

Android and ios: the same thing, sneak and press on her and click on "stand or sit"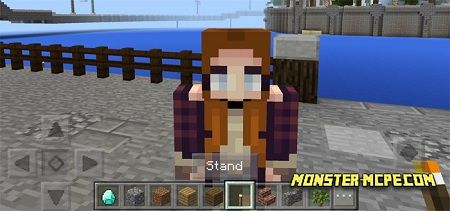 Also, you can sit on her shoulders, but in this case she will not move.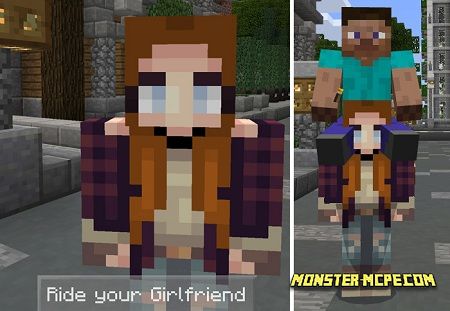 She has twenty-seven slots, it means that she can carry your items, that makes her more useful. In order to open your inventory, sit on her and click on "open".
Useful note:
you can have as many wives, as you wish ! Isn't cool?