Piranha Add-on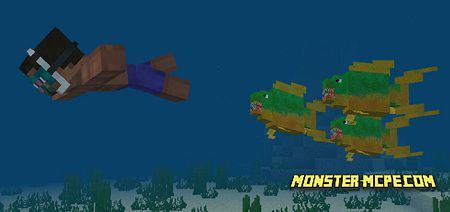 This
mod
adds for MCPE, danger creatures, here salmon was replaced on piranha. They attack their aim in groups, also attacks absolutely all who decided to get near them. These creatures make sea very dangerous and at the same moment, more exciting.
Description of gaming process:
Most often, they are moving in groups. In case if one of them will attack you, other will attack you too, following each other, they are very dangerous for those who planning to swim or who living in water.
Their size and attack power:
— small — 6;
— medium — 6;
— large — 10.
Enjoy playing game with this mod, experience your skills with adding new hard challenge.
Items which replaced salmon:
spawn egg of piranha;
piranha raw;
cooked;
bucket.