JOJO's Bizarre Adventure Add-on 1.17+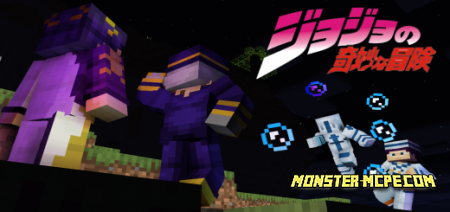 JOJO Bizarre Adventure
is a manga that began in 1987 and ended in 2004. Many anime series and full-length movies have been made based on this manga. The developer of this
mod
has decided to add characters and objects from this manga in the world of
Minecraft PE
.
Stone Ghost Mask.
Allows the player to transform into a vampire. Unfortunately, the item can't be crafted, so you'll have to search for it. First you need to go to the ruins.
There are quite a few traps here, so be careful.
Contents of the chest.
The mask adds great speed and strength to the player, but makes him burn in the sun.
Stands
Stands are available in survival mode. The stands arrow is used to obtain them.
Chests with stand arrows can be found in deep caves.
The recipe below can be used to create an arrow.
When using an arrow, you can get a stand.
How do you control the stands?
Click on the ground for the stand to start attacking.
You can also click the sneak button to attack.
To change the mode of the stand, you must press the sneak and ground button.
Crazy Diamond:
Can heal all monsters around you, but you can't heal yourself.
Created in paradise:
speeds up time and all player actions
Within 20 seconds, the world will reboot. Many things will go up in the air.
All stands will disappear and all mobs will die.
Gold Experience:
Freezes the target for 1 minute
Requiem Gold Experience:
appears when you use the gold experience arrow again. No one can get near the player with it.
Crimson King:
can delete time with a jump, but you must activate delete time mode to do so. After stopping everything will freeze, and during this time they cannot be attacked. The player will get positive effects. After that you can quickly kill the mobs, and using the sneak button you can teleport to the nearest creature
Sticky Finger:
The hardest to control.
Teleports quickly.
Sneak button sends you to an unusual place with positive effects: you can use the item to get back out
Special Pistols:
Infinite supply, but needs to reload every 6 shots
Reloads automatically
You can aim with the sneak button
World:
stops time for 5 seconds
Star Platinum:
also stops time, but better than World
Hand:
can erase items and space. You can destroy a mob by tapping on the screen.
Gates of Paradise:
can hit a mob and jump to impose negative effects
Destroys someone else's stand
D4C:
capable of destroying his enemy by dragging him to different parallel universes, so be very careful with him
With this mob, you can destroy enemies simply by clicking on them
Also available is the Love Train ability, which creates a very strong shield. This shield can only destroy a wrecking ball and an Act4 fingernail.
To activate Love Train, you'll need the corpse of a saint dropped from D4C
Wrecking Ball:
One of the two stands that can use a golden spin. You need to use the steel orb to get the stand.
The steel orb is an extremely powerful item that can destroy even the Love Train
Act4:
Another stand with golden spin. Capable of fingernail shooting.
To activate the golden spin, you need to free the first slot in your inventory. The stand must be in attack mode. Also, the player must be on top of the mob - then he will get nails that can blow up everything around him and even the love train
Weather forecast:
a stand that can control the weather
The first attack is lightning, but it's random, so you can hit your pets
The second attack is pure air, which infects all mobs within 25 blocks. Be careful - you'll get poisoned too.
Soft and Wet:
shoots bubbles, applying random negative effects
Miracle of you:
casts a curse with negative effects
To get rid of the curse, you must either kill the owner or eat the Lozzatsu (also gives positive effects)
Blows up cursed creatures when you jump
Killer queen:
can explode or spawn a powerful attack if you click on the ground three times
Mob attacks its target until it dies
If you're low on health, you can jump and activate a new ability, but it teleports you to a random location.
Stand removal item
Bug fixing item
Road roller
William A. Zeppeli:
Spawns all over the world. You can buy Sunlight from him.
Solar Light can be used as a weapon.
Dio Brando:
Evil boss with the World Stand. The booth has the power to stop time.
You have to get to his mansion to meet the boss.
The mansion spawns quite rarely.
You'll need a special item to spawn, and it can be crafted.
Boss is extremely dangerous and can cause trouble
Boss is able to stop time for 5-9 seconds, attack with a stand, summon fighters and create explosions, and will also roll the player with a roller
The mansion has a passport
Kira:
Currently only available in Creation Mode.
Attacks everyone with her stand, the killer queen, and blows up everything she touches
Two stages: in the first one it attacks with bubbles, and in the second one it becomes a bomb
JOJO's Bizarre Adventure Add-on 1.17+