Flying Zombies Addon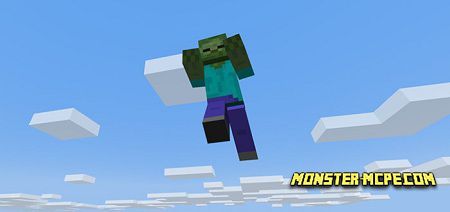 This
mod
represent new abilities of zombie, husk and drowned mob, from now they can fly. Cool, isn t it? This mod change usual conception of game on something more fascinating. Also, they have good resistance to fire and daylight. From now, it will be more difficult for you ti fight with them, besides of it, their health level was increased to 1000. Test your skill level, while playing with this mod.
Description of gaming process:
All kind of zombies from now have new abilities, such as more health, ability to fly and they can shoot with fire ball. All these, increases their level of survive.
In order to kill them, you should have special equipment as arrows and bow. As you can see, it will be not so easy as you can think.
Additional skills:
Ability to fly;
Level of health — 1000;
Affecting for all types of zombies;
Can shoots with fire ball;
Good resistance to day light.