Spider-Man Add-on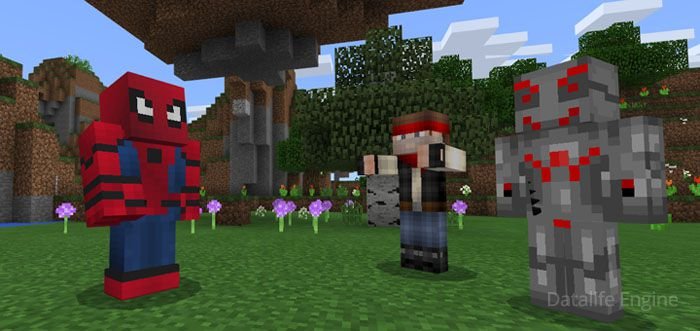 Spider-Man Add-on
is a cool mod that creates new features in Minecraft Pocket Edition that you have maybe seen from movies and video games about Spider-Man and Marvel Universe. Players will be able to add new armor suits. When you wear one of the costumes, you can turn into the famous superhero Spider-Man! Some mobs will be changed to new creatures. They are villains and defenders (or masterminds). Well, try to play with this add-on really worth it!
How does the Spider-Man mod work?
Default armor will be replaced with new types of armor, these are Spider-Man suits. You can even create your own costume with the elements of other sets by placing them to the Homemade Armor Set.
Some living beings will change their appearance and will perform the function of fantastic creatures from comics and movies. They turn into villains and other characters that you could have met before in the universe of Marvel. One of them is Mysterio, and there are other villains.
Another feature of this addon is new items and weapons that you can use to completely turn into a powerful superhero Spider Man. New items will give you  a super strength and the gameplay with it will become even more exciting. For example, if you use Swing, then climbing on a very high mountain becomes easier. Just drop this item (it will appear instead of Ender Pearl), and the character will be teleported to where the object landed.
Main functions
Armor
Spider Man's Costume: appears instead of the default Armor Minecraft PE.
Mobs
1. Venom
2. Carnage
3. Thugs
4. Robots
5. Black Cat
6. Citizens
7. Mysterio
Weapons and tools:
1. Swing
2. Web Shooter
3. Web
4. Tipped Webs
5. Spider Sense Potion