Blocky Vehicles Add-on 1.17+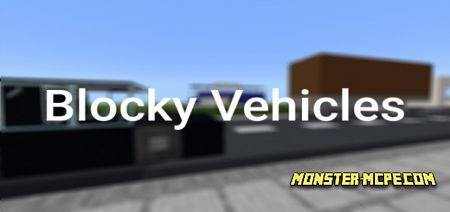 You have probably already used cars in the Minecraft world, they can all be with realistic details and sound, but what about cars that will more closely match the blocky world? If you are interested, then the new
Blocky Vehicles
addon will definitely please you. The new
addon
adds new cars to the Minecraft world, but their main feature is that they completely correspond in style to the blocky world, and they have a simple look but still no less interesting vanilla design made of vanilla blocks.
You can play a trick on your friends and say that these cars are simple blocks or objects that just look like a car, although in fact you can get into the car and go, or find some other use for them, for example, to complement the streets of your city.
The new addon adds both a small car and large ones like a truck and a bus. Let's take a closer look at the features of this addon below.
Features of the addon
As mentioned earlier, the new addon adds new cars to the Minecraft world, the main feature of which is their style and appearance. Players can change the color of the car using dyes. We also draw your attention to the fact that the health points of the car depending on how many blocks it consists of.
Vehicle types:
1. Lightweight and simple car for everyday use, namely movement around the world of Minecraft and travel. Vehicle screenshot:
2. The second vehicle is a bus that can accommodate not only you but other players as well. Vehicle screenshot:
3. The third type of vehicle is a racing car. Vehicle screenshot:
4. And the last type of vehicle is a truck. Players can use it to transport something from one place to another. Vehicle screenshot:
How do I get a vehicle?
In order for the player to get a vehicle, it is necessary to use the first method, this is a creative inventory and a special command / summon with the following text: bv:
The second way to get a car is by using crafting recipes:
For those who like crafting and certain challenges.
Driving is very easy.
First, find a special circle shadow.
For the PC version of the game: Right-click;
For mobile devices: Press and hold!
Blocky Vehicles Add-on 1.17+