3x3 Mining Hammers Add-on 1.16+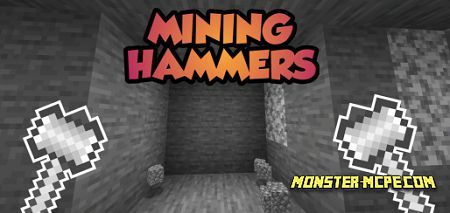 Are you tired of simple and boring mining? Would you like to mine faster and more efficiently and so that this process does not bring unnecessary trouble? If yes, then the new add-on is exactly what you need. The new
add-on
adds new unique mining hammers to your Minecraft world. New hammers allow players to increase their mining speed and also mine 3x3 blocks. Let's look at all the features of the new add-on below.
Features of the add-on
As mentioned earlier, the new add-on adds new unique mining hammers to your Minecraft world, using which players can increase the mining speed and mining area. In total, nine different mining hammers will be added to the game, each of which has a certain level of durability and mining speed. Please note that players can use new hammers in their world during survival and it will not be difficult for you to craft them.
How does it work?
In order for players to use the new mining hammers, they must first be crafted and, as we said earlier, this will not be difficult.
First, players need to create a special Tool Station that they will use to craft hammers.
You can see the recipe for crafting of Tool Station below:
Once you have crafted the Tool Station, you can start crafting the mining hammers, namely the parts it consists of.
The prey hammer consists of parts such as a stick and a hammerhead. For crafting in the example below, iron is used.
Recipe for crafting a hammer stick:
Hammerhead crafting recipe:
After you have crafted the two necessary parts of the mining hammer, you can combine them and craft the hammer, the crafting recipe is below:
In order for players to increase the level of the mining hammer, it is necessary to place the hammer in the center and surround it with Redstone blocks. In the same way, you can further increase the level of the hammer. Different types of hammers have different levels of damage, durability, and mining speed.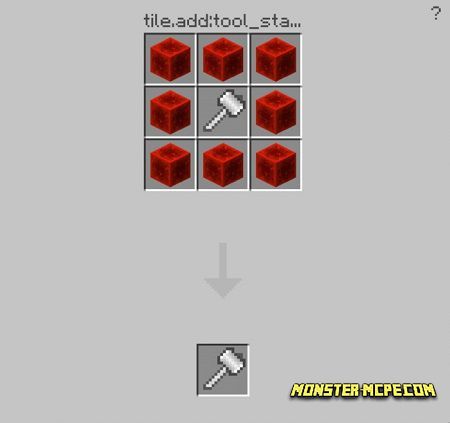 Don't forget to activate the Experimental Game Mode!
3x3 Mining Hammers Add-on 1.16+