The Wraith Add-on 1.16+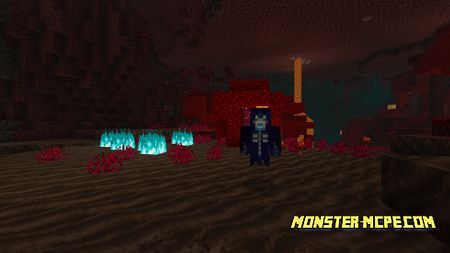 You probably often come across add-ons that added interesting content from Minecraft Dungeons to the Minecraft PE world? Would you like to add one of the famous mobs from Minecraft Dungeons? If so, and you've played Minecraft Dungeons before, then the new Wraith mob will definitely interest you.
For those who do not know what kind of creature it is, this is a type of hostile undead mob that lived only on certain levels and certain locations of the Minecraft Dungeons game. These creatures look like the ghost of the undead, they look like both ghosts and skeletons at the same time. Their appearance consists of a mantle, a head, arms chest, and a luminous hood.
The new
addon
adds such a creature to the Minecraft world. Now you can get new combat options with this unique mob from the Minecraft Dungeons universe. This type of soulmob allows players to fight a functional, powerful hostile mob. Let's take a look at the features of the new mob below.
Features of the mob Wraith.
The new mob spawns only in Soul Sand Valley, for that there is a simple explanation, firstly they are representatives of soul mobs, and secondly, their unique abilities and attacks require this location. These creatures will spawn naturally.
Upon death, the Wraith mobs drop bones.
These creatures have 20 health points and use flame abilities during battle.
Earlier we talked about how the Soul Sand Valley location best matches the abilities of the new mob, all because the main ability of Wraith is to summon 3x3 squares of blocks of fire. The problem is that in Minecraft PE, the soul flame block cannot be placed on something other than soil or soul sand. It is for this reason that new mobs will spawn in Soul Sand Valley to use their unique abilities. Another feature of this creature is teleportation, which they use only during attacks.