More TNT Add-on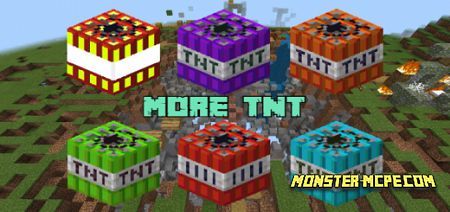 Do you like explosions and different TNT add-ons? If yes, then the new
add-on
is exactly what you need! The new add-on adds ten new types of TNT to the Minecraft world that players can use in their survival. In order for the player to be able to use one of the available TNT in his world, it is necessary to craft it, but it is not difficult. All new TNTs are presented in the world as blocks and each of them has certain unique features.
Please note that the new add-on may be compatible with other add-ons; it is also important to know that players can use the add-on only on versions of
Minecraft PE 1.16.210
and higher.
Features of the add-on
As mentioned earlier, players can add new types of TNT to their world, each of which can be crafted by the player. Players can find recipes for crafting TNT blocks in the crafting menu. All new TNT blocks have certain abilities when exploding, and to activate TNT, the player needs to use flint and steel.

We also draw your attention to the fact that each type of TNT has a certain radius of the explosion, as well as a certain length of fuses.
Attention: In order for the add-on to work correctly, you must activate the three main functions of the Experimental settings.