Throwable Torches Add-on 1.16+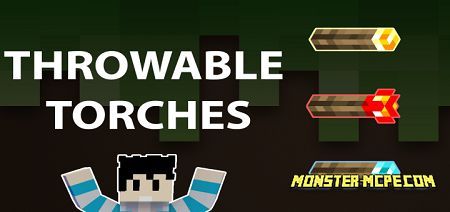 How often do you use torches? If you often use then this addon is exactly what you need! This
addon
will really only be useful to those players who use torches for survival or just during their adventures. Also, the new addon allows players to quickly and easily place a torch in the darkest corners of the Minecraft world or just at night. Now you can just throw the torch where you would like the torch to emit light and it will take the desired point. Players can place it anywhere in the Minecraft world. Let's look at the features of this add-on in more detail.
How does it work?
In order for players to use new throwing torches, they must first be crafted. But do not be upset, it is very easy and fast as you need cheap and simple materials for this.
Below you can see crafting recipes for throwing torches such as:
1. Simple:
2. Redstone:
3. Souls:
Players can also make a simple throwing torch that can only be held or manually placed by simply placing it on the crafting table.
As you can see in the screenshot, there is a Throwing Torch icon with two small white stripes that distinguish it from a simple torch.
It is VERY simple to use the throwing torch, for this use them like snowballs, that is, just pick up and throw! After they fly and lock in the chosen place, they will light it up.
Attention: Please note that the throwing torch can replace or break blocks only if the player threw it on half of two blocks such as flowers or a slab. The throwing torch can simply fall if thrown into the air.
Throwable Torches Add-on 1.16+