Fancy Furniture Add-on 1.16+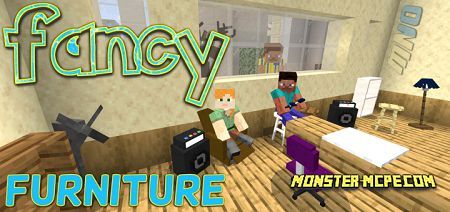 Would you like to add new furniture to your Minecraft world? Or maybe just update your furniture in your house? If yes, then the new
Fancy Furniture
addon
is what you need. You may have seen a similar addon before, but this addon has some additions including the old-style jukebox.
Now, in order for players to get new modern furniture, you need to find a seller whose name is Sven.
This seller travels the world of Minecraft, most often in a birch forest. A special feature of this seller, besides the fact that he sells new modern furniture, is that he travels with his companion, namely a moose. Let's see below what new furniture will be added to your game.
New furniture:
1. As mentioned earlier, the Old-style Jukebox will be added to your world, this is a decor object that you can place at home or, for example, in some tavern, it's up to you;
2. The second is Outdoor speakers, which you can place in the yard or somewhere else on the street;
3. Barstool;
4. Reclining chaise lounge;
5. Bookshelf;
6. Pedestal Fan;
7. Office chair;
8. Lamp;
9. Coffee table;
10. Tent;
11. Chaise lounge;
12. Sunlounger;
13. Outdoor Chairs;
And much more!
Some decor furniture has functional properties such as a jukebox, Pedestal Fan, and Outdoor speakers.
The jukebox will play music after you apply a special good coin to it. You can see the recipe for such a coin below: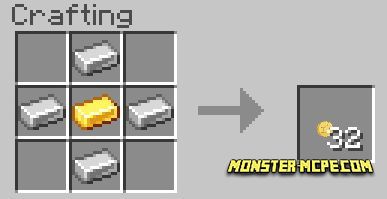 As you can see, for one craft, the player will receive 32 coins. Take coins and interact with the jukebox. After that, wait a couple of seconds and the music will start playing.
To stop the music playing, hold the Redstone and interact with the jukebox. Also, players can move their jukebox by breaking the existing one and its spawn egg will drop.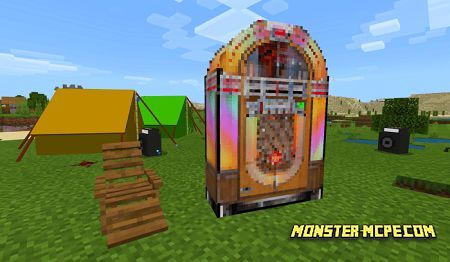 Outdoor speakers can also be moved by players like a jukebox, break an existing one and drop its spawn egg. For any action, for example, to produce or stop sounds, just interact with it.
And the last one is Pedestal Fan. A very useful thing especially if your house is in the desert! Players can turn this device off or on by simple interaction.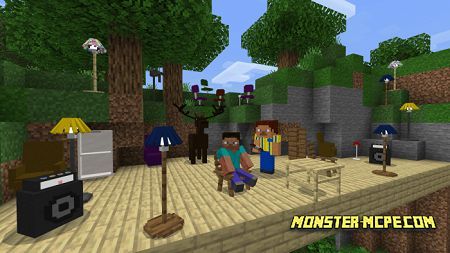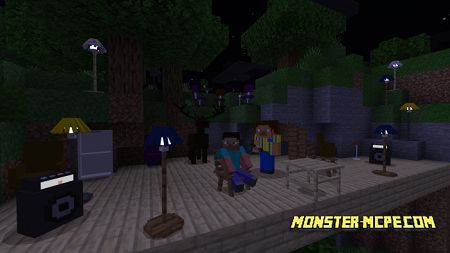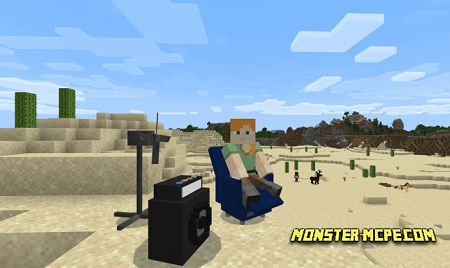 Fancy Furniture Add-on 1.16+