Nissan R32 GTR, Revised Add-on 1.16+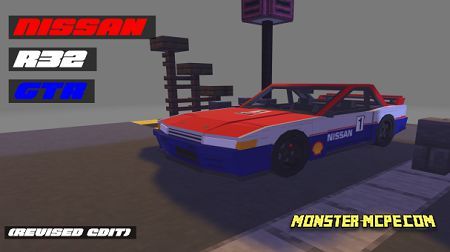 Earlier, you could already see an add-on that adds the famous Japanese car Nissan R 32 GT-R. Today we present you another add-on only updated, in this
add-on
players will get the same
Nissan R 32 GT-R
but with an updated body, a new seat, a sports body kit, animation, and other equally interesting features for this car. The new add-on was created so that players would not waste a lot of device memory to use one of the available car options. Now the player can choose one of two add-ons with different features of the same car model.
As in the last add-on, this car still has traditionally two seats for the player and his friend, it can develop great speed on the road, new animation of opening the car door, sounds, and free slots for storing your items.
How to get a Nissan R 32 GT-R car?
It's very simple, for this, players need to use either appropriate spawn eggs from the inventory of creative or special command: /summon.
In the new add-on, players can use the Nissan R 32 GTR in one of four available colors, a few of which are pretty simple and two are unique liveries. Let's see below how it will look in the game.
Types of Nissan R 32 GT-R and commands for spawn:
1. Gray, the command for spawn r32: silver, a screenshot of the car below:
2. Black, the command for spawn r32: black, a car screenshot below:
3. Special white livery, the command for spawn r32: white, a car screenshot below:
4. And the last special livery of 1911, the command for spawn r32: 1911, a screenshot of the car below:
Other car interior images:
Also, as mentioned earlier, a new animation for opening the car door has been added, below you can see a screenshot of how it will look in the Minecraft world:
Nissan R32 GTR, Revised Add-on 1.16+