Loot Bags Add-on 1.16.40/1.16+
Would you like to get other useful items by killing a simple mob or by visiting some structure? If yes, then a new
addon
will be of interest to you, it adds a new item to the Minecraft world, namely, loot bags. This is a useful item that will be available in the Minecraft world on five levels. This bag is dropped from mobs after death or is generated in structures. Inside each bag, players can find useful items for survival. Let's take a look at all five levels of the new loot bags.
Loot bag levels:
1. Leather;
2. Gold;
3. Chain;
4. Iron;
5. Diamond.
The last two levels are the rarest!
What you get depends on the level of the loot bag. Players can get things like a sword, bow, armor, ore, and more. Also, players can combine several low-level bags to get one rare level. For this combine four low-level bags.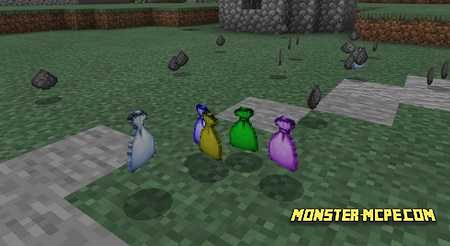 Loot Bags Add-on 1.16.40/1.16+