Animated Sword Pedestals Add-on 1.16/1.15+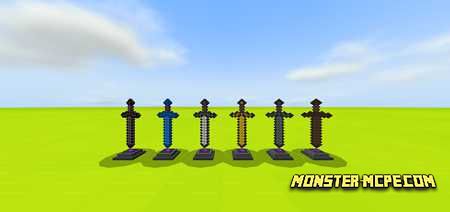 Would you like to change something in the Minecraft world or add something new? If yes, then a
new addon
that adds six new objects that you can place in some special rooms like a museum, a relic, and so on. These are objects such as special sword pedestals. This unique and very interesting design can be the perfect addition to your room or hall of fame.
All these objects, together with swords, will be animated. We also draw your attention to the fact that these objects can only be used as decoration. Do not use the pedestal as the main storage location for your weapon, as it cannot store and retain enchantments on the sword.
Please note that one pedestal is for one sword, you cannot place more than one sword on it.
How do I get a sword pedestal?
Everything is very simple, for this you need to have stone bricks and a Redstone block.
Below you can see the crafting recipe: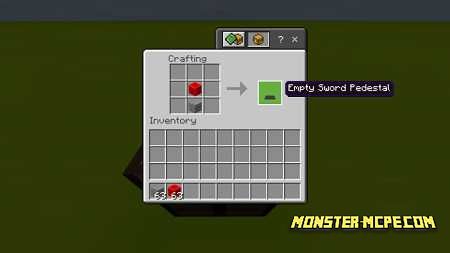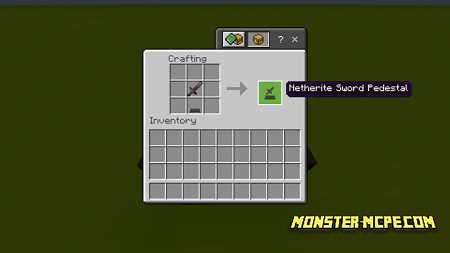 After you get the sword pedestal, you need to place your sword on it, for this combine the sword and a new empty object. Below you can see a screenshot of how it looks in the game: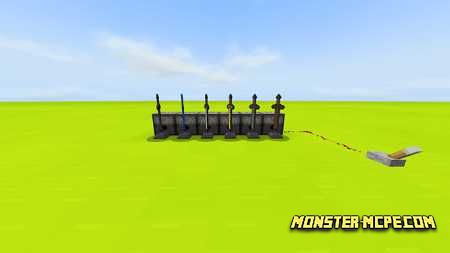 Note: We recommend using a dispenser if you want to place several sword pedestals at once, this will be useful for animation.
Animated Sword Pedestals Add-on 1.16/1.15+