Mermaids Add-on 1.16/1.15+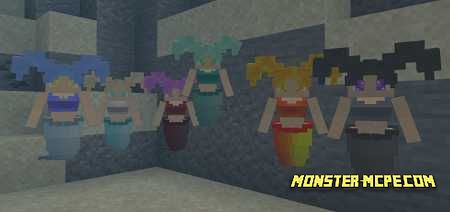 Have you heard the stories about mermaids? Do you like mermaids? If yes, then the new
addon
is exactly what you need, since the new addon adds a new mob to your Minecraft world, namely the
Mermaids
. Players can meet these mystical creatures in the ocean, we also want to draw your attention to the fact that these creatures can be tamed by the player. After the player tames the mermaid, she will follow him everywhere. In case you need to explore the land, and not the underwater world, the mermaid can turn into a human. It is very convenient!
As mentioned earlier, the player can tame the Mermaid, a new mob that will be added to the world of Minecraft, but for this, you need to first find it in the ocean. After you find the mermaid in the ocean, use a special item called Nautilus. After using this item, the mermaid will follow you. The behavior will be the same as that of a wolf, but only in the water.
We also want to draw your attention to the fact that if you need to go out on land and continue your adventure on land, you can use a special Amulet to turn your mermaid into a human.
If your mermaid is damaged, you can use the fish to heal her. In case she is human and she was damaged then use a cookie or pie to heal her.
How do I get amulets?
In order for the player to receive amulets, you need to craft them.
For example, for a Golden Amulet, you need to use one Redstone block, gold nuggets, and ingots. Crafting recipe below:
For the Iron Amulet, you need to use a diamond, iron nuggets, and ingots. Crafting recipe below:
In the ocean, you can see different mermaids as they exist in different colors, below is a screenshot:
Mermaids Add-on 1.16/1.15+