Scare Add-on 1.16/1.15+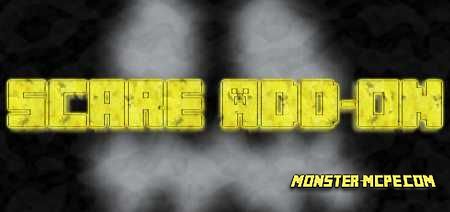 New cool addon that will help you scare your friends. This
add-on
will definitely scare your friends as it has some unique features, namely a scary face that pops up screaming and screaming. This addon will scare any fan of the Minecraft world, and you just have to watch it. Using this add-on is possible both in your world and on the server. We also draw your attention to the fact that this addon is not recommended for very impressionable players and players with a weak mentality.
How does it work?
In order for the addon to work properly and more comfortably, you need to use and apply the texture pack, but we draw your attention to the fact that it will also work without it. This is necessary in order for the player to see a scary face pop up and scream. As mentioned earlier, the addon also works without a texture pack, it simply places a pumpkin on the player's character's head, after which you will hear the scary sounds of a boss like Wither.
Below you can see a video of how it works with the texture pack:
And also without texture pack:
After applying the addon and texture pack (or without it), the player needs to use a special tag called scare. Players need to use this tag with their chosen goal and the following words: add scare. Then use the special /function command followed by the text: scare/run.
Please note that these commands will work even for several players at the same time.
In case you find it difficult to understand how it works and what needs to be done, we recommend using the special /function command with the following text: scare/help. This command will help the player better understand how to use, and most importantly, what commands are in the game. You will see a complete list of commands and a description.
Below you can see a screenshot of how it will look in the game and a complete list of commands: