Vindication Villager Addon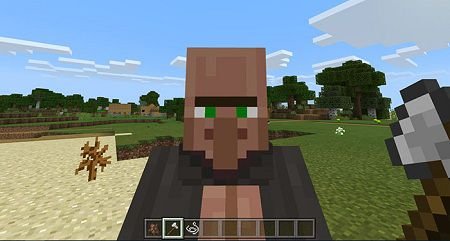 Vindication Villager Addon creates new behaviors for one kind of characters in the game world of Minecraft Pocket Edition. The idea of the supplement is to protect the villagers of the cubical universe and help them resist the attacks of aggressive creatures in Minecraft.
How does it work?
Default villagers can develop into Vindicator Villagers when you install this mod. Each of these characters will have an item that will help them fight monsters. The villager will have the Stone Ax.
Windows 10 Device: Take an Iron Ax, then right-tap on a Villager
iOS or Android system: Take the Ax, make a long tap on the mob and click on "Train" button for making him stronger
You probably know that the Iron Golem can also be trained, but with Villager everything is much easier. Just take the weapon in your hand and press it to make it strong.
Get the iron ax with the help of a crafting recipe. Take 2 sticks and 3 iron bars to make a metal ax.

For the iron golem 27 iron ingots and heads may be needed, it is a more costly process.

If you have a limited amount of resources, but you want to create a creature that will guard you and protect you from attacking enemies, then just use this addon.
Press with iron ax to the villager and he will become a strong protector for you!
Vindication Villager has following characteristics:
24 heart points
13 points of damage
Iron Ax as a custom weapon
By the nature of his behavior Vindication Villager is a neutral character, he will be peaceful until you begin to attack other villagers.
When your character attacks different monsters, Vindication Villagers will be able to hurry you to the rescue. The farmer and the librarian will no longer be calm at the time when a zombie or spider attacked you, the butcher and blacksmith will also come to the rescue! If a resident with an iron ax gets lightning, then he too can turn into a witch, as is usually the case with the usual villager in Minecraft PE.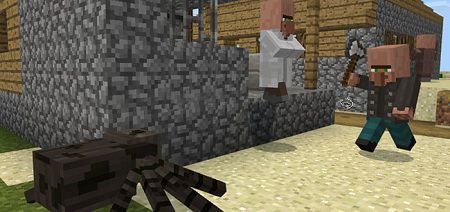 Vindication Villager Addon