Orc Boss Add-on 1.16/1.15+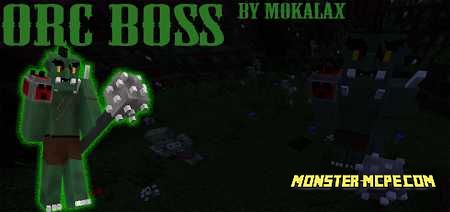 Do you like to fight with various powerful creatures in the world of Minecraft? If so, then the new
addon
is what you need! The new addon adds a powerful boss to your Minecraft world. This is a new challenge and a new experience. Using the new addon you will add the
Orc Chief
to your world. This boss can summon other creatures such as goblins. These are his little minions who will make your survival very difficult. In addition to Orc's minions, the boss has something else for you, namely his attack. In more detail, let's consider below.
Orc Chief is very dangerous because he is very strong and has an army of goblins. This boss is robbing villages and stealing women from villagers, you are the only hope that this villain will die.
Kill the Orc boss and all his minions.
It will not be easy, as the Orc Boss has 1000 health points and 30 attack power. Be prepared for the goblin ambush, as the Boss will summon his minions every thirty seconds.
Orc Boss Add-on 1.16/1.15+