Minions Addon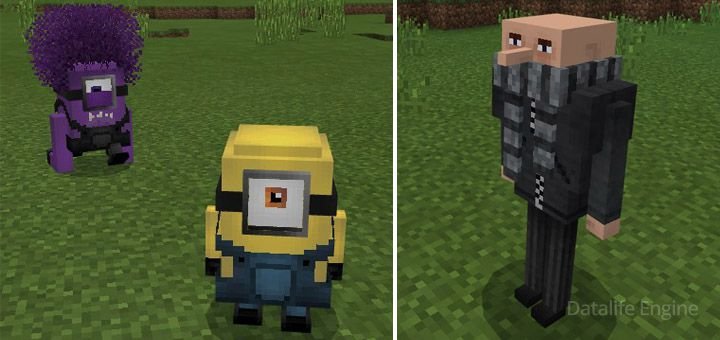 Minions mod
adds yellow oblongated creatures to
MCPE
, players likely know them from watching movie that called Minions. They are real minions in MCPE, new creatures can be friendly and also evil, add-on also adds Felonius Gru in the game world. You may use minions in different ways by taming, fighting or making them do what you want. Your new friends will hunt animals or catch fish for you!
Where can I find minion in Minecraft?
Minions will appear in Nether world, so you can seethem in that dimension. This creature spawn to the world instead of zombie pigmen. Take suitable egg for spawn when you want to create minions by yourself.
When you wonder to tame a minion it's possible to find an adult one and feed him. Use bananas (carrot) for taming, then minions become your friend. Players have a chance of 33 percent for taming a minion in Minecraft PE with this mod. Feeding a baby creatures leads to their growing, the process become more progressive.
iOS / Android: do a long tap to a creature, holding a banana in hands, then tap on "Tame" button
Windows 10: take a banana to hands and use Right-click for taming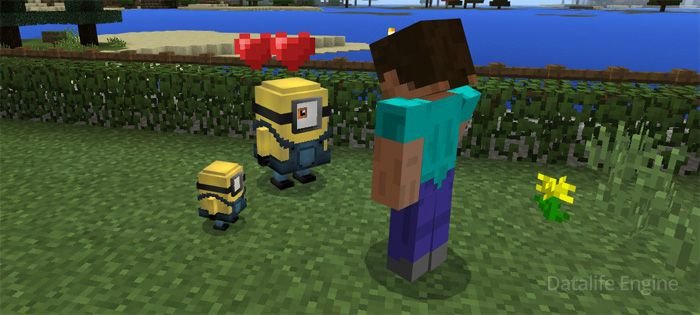 Tamed ones start follow the player everywhere. You may make him to sit down or stand up, like it works with wolves in Minecraft Pocket Edition. When you don't want a minion nearby, just simply tie it to a fence.Types of minionsEvery tamed minion can do various types of job, check the full list bellow:
Swords = Hunting
Axes = Tree chopping
Pickaxes = Mining ores
Hoes = Harvesting plants
Shovesl = Digging
Fishing rods = Catching fish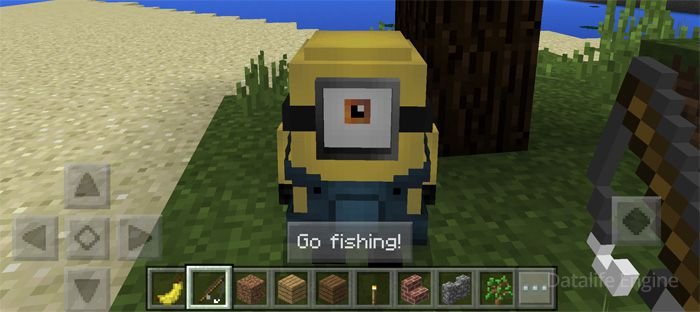 Give any item from this list to minion and he starts to current job. It takes about 1-5 minutes to be completed, after a while the task is done! Press a button to get all goods then minion collected. As you can see, minion gived me some fish!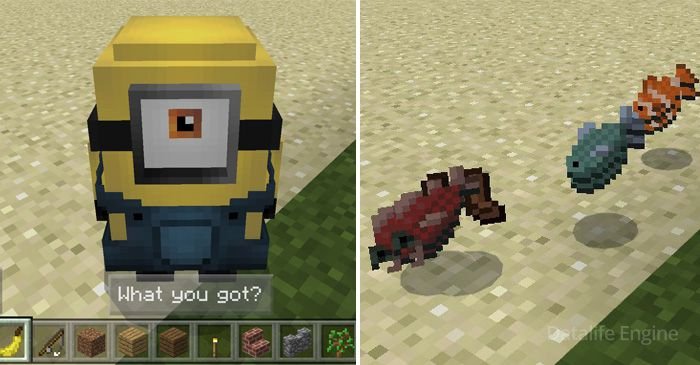 Fighting!
Minions aren't cowardly. Tamed minions will fight with every creature that you attacked. Else they attach everything you want to destroy or kill.

Minions Main Info
Minions are not afraid fire
Replaces pigmen mobs
Spawns in the Nether dimension
Evil Minions
You may create an evil minion in a few ways. These creatures appear in the world randomly, because they are instead of skeletons. It's also possible to change simple minions into evil. It works in an opposite direction too.
Wild to evil – throw a poison potion at creature     
Evil to wild – throw a potion of weak at creature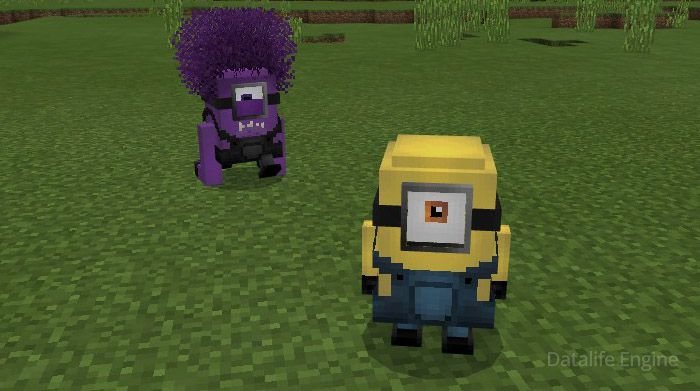 Evil Minion Main Info:
Replace skeletons
Health of 10 points
Angry to gamers, wild minions and every creature except hostile ones
Felonius Gru
As many players know Gru is a one of the most recognizable character in the movie that's called Despicable Me. At first he was a villain but for a time he became the Anti-Villain League assistant.This character will be friendly to player and you can tame him, take a bow for doing it. Then Gru will protect you from aggressive creatures in Minecraft world.
Gru Main Info
Replaces stray
30 points of health
Friendly
You can tame this character
Defends you against dangerous mobs
Uses levitation ray (instead of bow), arrows cause levitation effect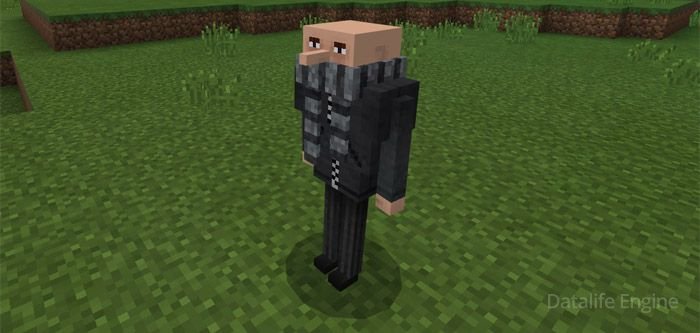 Other
New banana textures instead of carrot crops.