VanillaEX Addon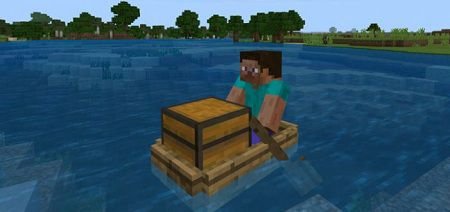 VanillaEX Addon is an interesting addition that creates new functions and improved gameplay in the Minecraft Pocket Edition universe. Survival mode in the world of MCPE will become more exciting and holistic thanks to this mod! All the new features that we are now talking about are functions that already existed in the world, but now you can see them in an entirely new way.

This means that all the changes were made to keep balance in the game process and not to overload it. Generally
add-on is good enough and brings interesting features to the game, we recommend you try it!
VanillaEX Features
At the end of the description, you can see the full list of changes, but now we would like to highlight some of them.
Now you can place a chest in a boat when you swim along the river or into the sea. There is one more feature, these are small parrots. You can meet two kinds of small tropical birds in the game universe!
New behavior in living beings:
Boats - you can duck to use the vault in the boat
Elder Guardians - Friendly to Squid
Endermen - Will run away from the rabbit
Evoker - Can summon Silverfish when an attack occurs.
Guardian - Friendly to Squid and Fish
Llama - You can ride like a horse
Parrot - Small birds in different biomes
Polar Bear - Aggressively tuned to Stray.
Rabbit - Will not run away from you anymore
Squid - Milkable!
Stray - Runs away from Polar Bears.
Wither Skeleton - Turns into Blaze when in contact with a red-hot lava