Lucky Island SUPER Map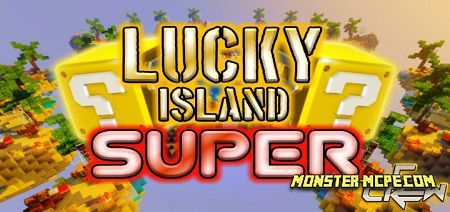 We present to your attention a new gaming
map
called
Lucky Island SUPER
. This map is available for Android as well as for iOS and Windows 10. This is a very exciting game for you and your friends. Thanks to the new types of blocks, you can find new blocks and weapons that you will use to battle with your friends. To do this, simply break new blocks and collect all items found inside.
This game is available even without an Internet connection, just use the local network. You can also get unique weapons by winning fights. For each fight that you win, you will be given points that you can then use to buy items in a special Shop.
Let's take a closer look at how all this works:
1. The first thing you need to do is download this map. This is not difficult, so let's move on to the second point;
2. Invite your friends. Your friends should do the following: Click Play, select Friends, then select a specific player, or rather a nickname;
3. At the beginning of the game, in a special game menu, select the required number of players for the game from 2 to 8. Then enter the portal and wait until all players connect to you;
4. The game will start a few seconds after all players are connected. After that, you can start breaking new lucky blocks. As mentioned earlier, you need this so that you can get new items. You can also create your own crafting table, which will help you create your own weapons. Find ways to reach your enemies, defeat them and win.
Please note that on Middle Island, you can find some special items.
5. The player who defeats all other players will receive 25 points. Players can use these points to buy any special items in the Shop.
The shop is located on Shop Island. On this island you will see a special chest opening which you will need to select a certain category (which one you want), it is there that you will choose what you buy.