Mega Redstone House Map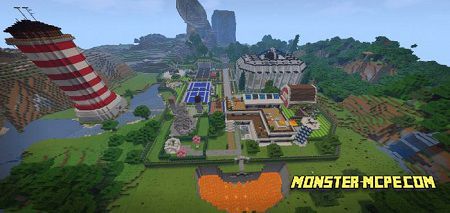 A new map that was created entirely on the Redstone system, this project represents a fully functional and modern home. This map is a great place to explore new places, as well as just for survival. Also here you can see a large number of various objects and places, such as a greenhouse, helicopter and much more.
The creator of this
map
spent a little more than 4 months on its creation since Redstone for this world was the same as for the computer version. A large number of objects have been added, ranging from greenhouses to helicopters, farms and a bridge! The player can also find a special basement and in order to find it you need to use the secret road in the house, press the button and after opening, follow down the road.
Below you will see a list of available features of this map:
1. The bridge (12x6);
2. The most important object of the card is the Modern House;
3. Helicopter;
4. Aircraft;
5. The sand door (12x6);
6. And much more. We will not disclose the entire list to you so that it would be interesting to explore the map. Have a nice game!