Pac-Man Minecraft Edition Map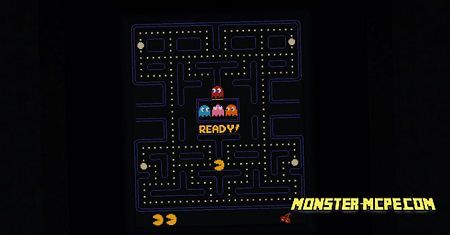 Do you know the very old and famous
Pac-Man
game? It was created already in 1980 and has become one of the most popular games in the world! Now this game is available in the
Minecraft
world.
Below is an example of what you will see when entering the game, or rather after you download the world.
The book that the player sees will be there for a reason, and thanks to it the player will receive information about where the settings should be.
To understand what to do, do not be afraid to take your first step, you definitely won't fall down. The room you enter will be called the Control Room.
After clicking the button, it should disappear and your game will begin. You will also see a special switch that helps you put the game on Pause or restore it after. In order for you to pause the game you need to press the switch up, and in order to resume the game, press down.
In general, the gameplay itself should be identical to the original. Please note that every time a player passes a new level he will receive a certain fruit, different fruits indicate different levels. In order for you to eat ghosts, you need to eat as many edible white dots as possible. After all your lives have passed, the game will end for you, but do not be discouraged as you can always start all over again, just restart and continue playing the Pac-Man game in the Minecraft world!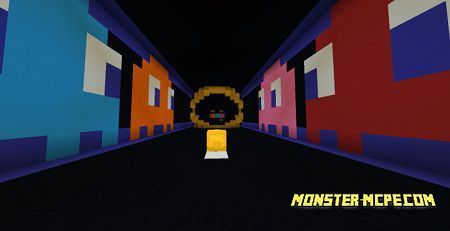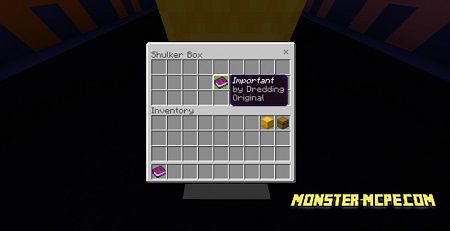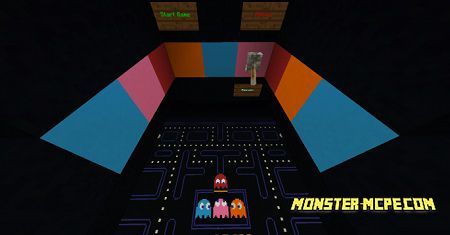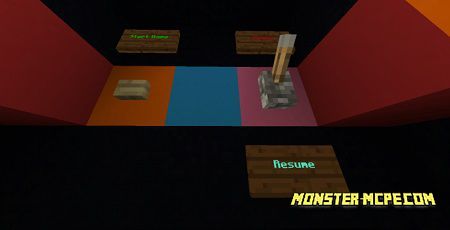 IMPORTANT
The recommended render distance should be 14! The minimum can be from 12 and above.
Pac-Man Minecraft Edition Map