Futsal (Minigame)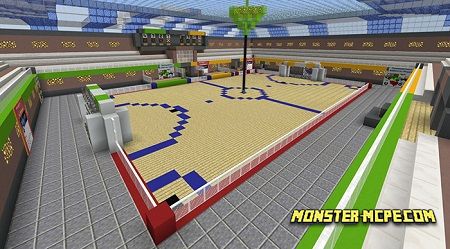 This mini-game is pretty good, and the main difference of usual of football from
futsal
of MCPE, is that it is type of soccer but with less amount of players. Also, for this map there is special addon which is adds new items such as boots, balls, jersey, poster and many other things. This mini-game is available for nine languages: GB, CA, UK, DE, FR, PL, Slovak and Czech.
How it works?
There is a special functions for stadium, such as scoreboard, ceiling, which you can open or close. In general absolutely all the features of map was created with help of special command blocks, also, there are additional pluses, such as interesting places, for example different shops, restaurants or museum. You can find special football items in chests, which is scattered on the stadium.
The minimum amount of players for this map is two persons. The results of game, such as goals, you can see on the scoreboard. Maximum amount of goals can be — four, that is why your game will over after four goals. After you score a goal, the ball will spawn in center of stadium.
The list of new items:
Hamburgers

Ice cream

Boots for football

Money

Jerseys for players

Paintings