Insane Scoreboard Calculator (No Mod) (Redstone)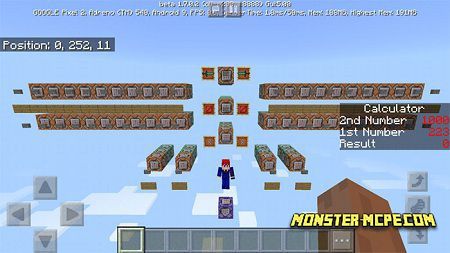 This
calculator
gives you opportunity to use scoreboard functions in version
1.7.0.2
(beta version). With help of command blocks you can make all the calculations with any numbers. Also, there is additional command block, such as No Mod, which is adding some mechanic to your game without influence of player on gaming process (to install addon or mod).
In order to choose first numbers, use right and left buttons.
After choosing of number, use symbols from math in order to calculate equations.
Insane Scoreboard Calculator (No Mod) (Redstone)