BeaconTown Map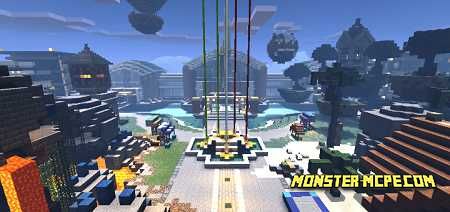 Have you ever played Minecraft: Story Mode? If you have played and you know what it is then the new map will definitely be interesting to you. Those who do not know what it is, it's okay, we will tell you. This
map
is related to the second episode of the adventure in the Minecraft universe. But before we talk about the new map, let's take a quick look at this episodic PC game from developers Mojang and Telltale Games.
Minecraft: Story Mode Season 2 is a unique and very addicting adventure game where you and your friends, other main characters, go on a new adventure where new challenges, difficulties, and various dangerous creatures await you. At the end of this adventure, you have to fight a very dangerous boss called Wither Storm. This is a huge three-headed monster. Unfortunately, this episodic game has now been removed and is no longer available.
The new map is like a small sequel, this is the place where the main characters live now. A beautiful and cozy place near the lake, located on the plains and surrounded by mountains.
This map is available for both single and multiplayer games. You can create your own world and give each player their own role.
The detail and variety of buildings in this world will pleasantly surprise you. This is a great place to play nicely.
Below you can see screenshots of this city and its unique structures: