Working Plague Inc Map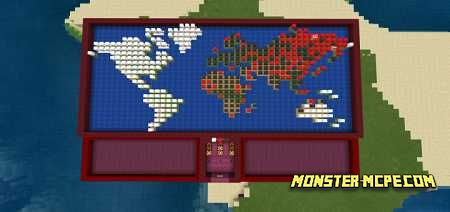 Have you ever played the very popular mobile game Plague Inc? For those who do not know what kind of game it is, this is a multi-platform strategy in the genre of the biological simulator. The game is available for almost all existing platforms. It is a disease simulator based on a fairly complex and realistic model of the spread of an epidemic. The player's task is to destroy life on Earth. Would you like to add this to the game in the Minecraft world?
If so and you are wondering how it will work, then the new
map
is exactly what you need! The features and tasks in the game are exactly the same. This is a new experience and an interesting game inside your other favorite and interesting game. The main task remains the same, to infect and kill the human race.
For the correct functioning of this map, a huge number of command blocks were used. Activate your virus on the planet and see how quickly it spreads.
For those who have never played this game before, you will find a special guide book that will explain in detail the rules of the game.