Unfair Villager Map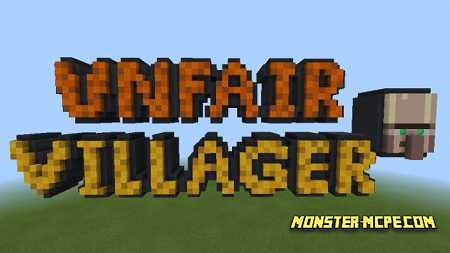 Have you ever played on unfair maps? We know how this type of
map
can get you crazy. If you like thrills and challenges, then a new map called
Unfair Villager
is what you need. The new map has something similar to typical unfair maps. Something similar is also there for the PC version of Minecraft Java. For those who do not know what unfair maps are, we recommend that you play and get invaluable experience, but we also draw your attention to the fact that if you have a weak psyche you should not risk your device and yourself, as there is a chance that you will break your device or even delete the game!
New map in the style of the village and villagers. Here you will face new puzzles, obstacles, and various difficulties. Since in the normal unfair map there will not be checkpoints in order to save, this means if you die you have to start your adventure from the very beginning. Therefore, be careful and use all your skills. The new map is a new game and a new experience that will either make you stronger or abuse your device (it depends on you). It is possible to complete the game if it seems to you that this is not so, we assure you that it is possible since the game has been played by the players to the end many times already.
The game is only for Minecraft PE! We also ask you to play honestly and not to use cheats!